ACCESS is the recognized collective bargaining representative for CCBDD employees in our bargaining unit.
Subcommittees: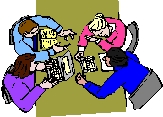 Contract & Negotiations – Prepares proposals for negotiating the Master Agreement:
Pass out surveys in the building, remind colleagues to fill them out, help collect them back, send them to the chairperson.
Tally the results for your building or group and send your tally along with the surveys to the chairperson.
Volunteer to be on the committee – it usually meets every other week from January through May.
Do some research – Cost of Living Adjustment, health care costs and options, best practice trends for your group, tuition  at local colleges and universities, etc.
Gloria Stansberry, Chair
Grievance – Investigates staff member complaints and represents members, non-members and the interests of the Association according to the Grievance Procedure in the Master Agreement and the Ohio Public Employees' Collective Bargaining Law.