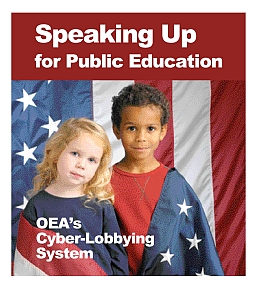 Cyber-Lobbying is the convenient member-friendly way to do your part advocating for issues that affect public education.  No prior legislative or political action experience is needed.  Cyber-Lobbying provides instantaneous delivery of your position to your elected officials.  Sign up on both the OEA and NEA sites below.
When an important state or national issue is being considered by the State Legislature or U.S. Congress you will receive an e-mail describing the issue and offering you the opportunity to compose an e-mail to your elected officials using a sample letter, suggested bullet points, and/or your own words.  It is the fastest and easiest way to be involved and do your part.
State Issues:
National Issues:
Map:
2012 Ohio US Congressional Districts
ODoDD Pipeline:
ODoDD Pipeline is a twice monthly electronic newsletter from the Ohio Department of DD and covers many items of interest affecting CBDD Employees and the clients they serve.  Go to the ODoDD Pipeline page for all issues and sign up to receive Pipeline with an email to join-pipeline@list.dodd.ohio.gov.